Hi everyone,
It's time for the INFOLIST.com RED CARPET HOLIDAY EXTRAVAGANZA – a high-end networking event!  Time to celebrate the holidays, all while HAVING FUN, and connecting with industry professionals so you can find more work, make your own work, and get your projects made!
SPECIAL GUESTS include Executive Producer of the STAR TREK franchise ROD RODDENBERRY (Star Trek:  Discovery, Star Trek: Picard, Star Trek: Lower Decks, etc.), BAI LING (starring in The Crow, Red Corner, Anna and the King, Star Wars 3: Revenge of the Sith), TARA REID (starring in the American Pie franchise, the Sharknado franchise, The Big Lebowski, Urban Legend), EVA BITAR (Manager of Motion Pictures & Television for the Mayor's Office of Los Angeles), JANESHIA ADAMS-GINYARD (starring as "Panderverse Eric Cartman" in South Park: Joining the Panderverse, and in Wakanda Forever, The Falcon and the Winter Soldier, Black Panther), Film Executive RICHARD WALTERS (the Oscar-Winning film Whiplash, Oscar-nominated Nightcrawler), Film Distribution Exec BEAU SZUMILAS (Cinema Epoch Film Distribution), JIM HERZFELD (screenwriter of the Oscar-nominated Meet the Parents), NAOMI GROSSMAN ("Pepper" in American Horror Story), LEILANI SHIU ("Teeka the Jawa" in Star Wars: Obi-Wan Kenobi and The Mandalorian), ANDY CHENG (Stunts/Fight Coordinator on Shang-Chi and the Legend of the 10 Rings, Rush Hour 1&2, The Scorpion King), as well as Talent Agents GEORGE BAKER, CARTER DANDRIDGE, and ANOUSH ALEXANYAN from ASAP Talent Agency,  and more from Stranger Things, Call of Duty, Guardians of the Galaxy, Catwoman, Final Fantasy, Cabin Fever, Free Guy, Cocaine Bear, Final Destination, Alita: Battle Angel, Maniac, CyberPunk 2077, Fear the Walking Dead, 13 Reasons Why, Deal or No Deal, SAM POUNDS (music producer for BTS and Jamie Foxx) plus major Influencers & Content Creators with millions of followers, and many more to be announced soon from music, and fashion, video games, and more!
And this year's event will be bigger and better than ever!
EVEN MORE INDUSTRY GUESTS TO BE ANNOUNCED SOON!  But get your tickets NOW so you can get the biggest discount!  See details below!
I hear SUCCESS STORIES from every InfoList event about how someone made a connection that got them a job or gig, helped them get their project done, or changed their life!  So support INFOLIST (and your career!), and get your tickets now at the link below!
Happy Holidays – good luck, have a great day, and don't forget to dream big!
-Jeff
Jeffrey R. Gund
Follow INFOLIST on Instagram
Follow INFOLIST on Twitter
Like INFOLIST on Facebook
Join Our Facebook Group
______________________________
JEFFREY R. GUND
&
invite you to attend a
RED CARPET
HOLIDAY EXTRAVAGANZA!!
A HIGH-END NETWORKING EVENT!
with
SPECIAL INDUSTRY GUESTS
EXECUTIVE PRODUCER OF THE STAR TREK FRANCHISE
ROD RODDENBERRY
STAR TREK:  DISCOVERY
STAR TREK:  PICARD
STAR TREK:  LOWER DECKS
STAR TREK:  STRANGE NEW WORLDS
STAR TREK:  PRODIGY
EVA BITAR
MOTION PICTURE & TELEVISION MANAGER
THE LOS ANGELES MAYOR'S OFFICE
OF FILM & TELEVISION PRODUCTION
BEAU SZUMILAS
Vice President
CINEMA EPOCH FILM DISTRIBUTION COMPANY
Specializing in international cinema
DIRECTOR
PITOF
CATWOMAN
VIDOCQ
GEORGE BAKER
OWNER
ASAP TALENT AGENCY
Representing actors, influencers, writers, athletes, comedians & more
TALENT AGENT
ANOUSH ALEXANYAN
ASAP TALENT AGENCY
TALENT AGENT
CARTER DANDRIDGE
ASAP TALENT AGENCY
SAMANTHA HARTE
CASTING on
FINAL FANTASY:  UNLIMITED
TEKKEN:  THE MOTION PICTURE
SAKURA WARS
and SPECIAL EFFECTS on
ALITA: BATTLE ANGEL
SIN CITY:  A DAME TO KILL FOR
MACHETE
MACHETE KILLS
SCREENWRITER
JIM HERZFELD
The OSCAR-NOMINATED film MEET THE PARENTS (starring Ben Stiller & Robert DeNiro)
MEET THE FOCKERS (starring Ben Stiller & Robert DeNiro)
FILM EXECUTIVE
RICHARD WALTERS
The OSCAR-WINNING film WHIPLASH
the OSCAR-NOMINATED DRIVE (starring Ryan Gosling)
the OSCAR-NOMINATED NIGHTCRAWLER (starring Jake Gyllenhaal)
the GOLDEN GLOBE-NOMINATED BOBBY (starring Emilio Estevez & Lindsay Lohan)
EXECUTIVE PRODUCER
WALTER O'BRIEN
CEO & Founder, SCORPION STUDIOS
THE MAN WHO FELL TO EARTH
SPIDER-MAN: HOMECOMING
VENOM
and true-life inspiration for the CBS hit show
SCORPION
LARRY NAMER
Co-Founder E! ENTERTAINMENT TELEVISION
President, METAN DEVELOPMENT GROUP
STUNTS / FIGHT COORDINATOR
ANDY CHENG
The OSCAR-NOMINATED SHANG-CHI AND THE LEGEND OF THE 10 RINGS
RUSH HOUR 1&2
THE SCORPION KING
Shanghai Noon
Oz the Great & Powerful
Olympus Has Fallen
Daredevil (movie)
True Blood
Hawaii 5-0
EXECUTIVE PRODUCER / TALENT MANAGER
JACLYN SURI
CABIN FEVER (2016)
Exposed (starring Keanu Reeves)
The Con Is On (starring Uma Thurman, Tim Roth)
& Owner/CEO of
PELICAN POINT MEDIA-TALENT
SCREENWRITER
JEFFREY REDDICK
FINAL DESTINATION (franchise)
VFX /SFX/ANIMATOR
PAUL RUNYAN
The OSCAR-NOMINATED FREE GUY
SPIDER-MAN: FAR FROM HOME
PINNOCHIO (2022)
COCAINE BEAR
RED NOTICE
MORBIUS
The EMMY-WINNING WANDAVISION
The EMMY-NOMINATED LOKI
The EMMY-WINNING THE MORNING SHOW
The EMMY-WINNING GOTHAM
The EMMY-NOMINATED AGENTS OF S.H.I.E.L.D.
HEROES REBORN
PRODUCTION DESIGNER
GILES MASTERS
THE EMMY-WINNING AMERICAN HORROR STORY
9-1-1
THE BASTARD EXECUTIONER
MUSIC ARTIST / MUSIC PRODUCER
SAM POUNDS
Music Producer and Co-Writer on several JAMIE FOXX projects including:
Theme song to "Dad Stop Embarrassing Me" (Netflix Original)
Theme Song to "Hip Hop Family Christmas" feat Neyo, MC Lyte, and more (VH1 original)
Producer on Theme Song "DayShift" (Netflix Original feat himself, Snoop Dogg, Jamie Foxx, Dave Franco, and JYoung MDK)
Has also produced for other artists including BTS, T.I., Austin Mahon, Liam Payne, Lee Brice, and Jimmie Allen
WITH CELEBRITY GUESTS:
BAI LING
starring as
"Myca" in THE CROW
"Shen" in RED CORNER
"Tuptim" in ANNA AND THE KING
"Ria" in CRANK:  HIGH VOLTAGE
"Mysterious Woman" in SKY CAPTAIN & THE WORLD OF TOMORROW
"Didi" in DIM SUM FUNERAL
"Senator Breemu" in STAR WARS: EPISODE 3 – REVENGE OF THE SITH
and in
Nixon, Wild Wild West, Sharknado 5, Lost, Three Extremes
TARA REID
"Vicky" in the AMERICAN PIE franchise
"April" in the SHARKNADO franchise
"Bunny Lebowski" in THE BIG LEBOWSKI
"Gwen Pearson" in NATIONAL LAMPOON'S VAN WILDER
"Melody Valentine" in JOSIE & THE PUSSYCATS
"Marci Greenbaum" in CRUEL INTENTIONS
"Sasha Thomas" in URBAN LEGEND
and Executive Producer on KILL THE IRISHMAN
JANESHIA ADAMS-GINYARD
starring as "Panderverse Eric Cartman" in SOUTH PARK: JOINING THE PANDERVERSE
Starring as "Nomble" in
The OSCAR-NOMINATED WAKANDA FOREVER
& THE FALCON & THE WINTER SOLDIER
Starring as "Dora Milaje" in
The OSCAR-NOMINATED AVENGERS: INFINITY WAR
and in the OSCAR-WINNING BLACK PANTHER
Stunts in:
Avengers: End Game
Godzilla: King of Monsters
Jordan Peele's US
Station 19, Lovecraft Country
NAOMI GROSSMAN
"Pepper" in the EMMY-WINNING hit series on FX
AMERICAN HORROR STORY
MARK DECARLO
"Hugh Neutron" in THE ADVENTURES OF JIMMY NEUTRON
Starring as BOFFO THE BEAR
LUCIFER
RUGRATS
Also
Buffy the Vampire Slayer, The Ant Bully, The Family Guy, Curb your Enthusiasm, Seinfeld
and
Travel Channel's Taste of America and A Fork on the Road (foodie/travel podcast)
TJ STORM
Starring as:
"Godzilla" in GOZILLA: KING OF THE MONSTERS (motion capture)
"The Predator" in THE PREDATOR (motion capture)
"Darth Vader" in VADER IMMORTAL (video game)
"Maginty" in PUNISHER: WAR ZONE
"Bayu" in CONAN (TV Series)
also MOTION CAPTURE
as "Colossus" in Deadpool
and as "Iron Man" in Captain America: Civil War
as "Parallax" in Green Lantern
as well as in Avatar and TRON: Legacy
LEILANI SHIU
Starring as "Teeka the Jawa" in OBI-WAN KENOBI
And also in
THE MANDALORIAN
THE BOOK OF BOBA FETT
and starring as "Katrina the Cat" in Catatonic (Video Game)
VOICE ACTOR
JON BAILEY
Narrator of 4-time Emmy-Nominated HONEST TRAILERS
The voice of "Optimus Prime" and dozens of characters in TRANSFORMERS anime, ads, films & games
Also voices in Hawkeye, Evil Dead (game), BumbleBee (movie), Pokémon: Detective Pikachu
JESSICA LEE
Suitcase #16 on DEAL OR NO DEAL
ROME KANDA
MANIAC on Netflix
I SURVIVED A JAPANESE GAME SHOW (Host)
Voice actor on CYBERPUNK 2077 (VG)
PLUS:
Jackie Dallas – appearing in Stranger Things, Fear the Walking Dead, 13 Reasons Why, The Resident, Leverage: Redemption, Criminal Minds, NCIS: New Orleans
Cisco Reyes– Actor/Voice Artist – "Romy" in Amazon's urban superhero series Chosen Kin Origins, appearing in the OSCAR-NOMINATED WEST SIDE STORY, All Eyez on Me, When They See Us, Unsolved: The Murders of Tupac and the Notorious B.I.G., star of Entanglement
Jon Callan – screenwriter: Guardians of the Galaxy (series), Young Justice, Justice League Action, Thunderbirds Are Go, Ben 10, The Walking Dead: Onslaught (VG)
Chris Jai Alex – appearing in Thundercats Roar, Supergirl, Captain America: Civil War, Star Wars: Battlefront 2 (VG), "Mace" in the Call of Duty game franchise, God of War, Fright Krewe, Deathstroke: Knights & Dragons, Aquaman: King of Atlantis, Darksiders Genesis
Marco Martinez – Special Thanks on the OSCAR-WINNING Moonlight, and appearing in Snowfall, Gentefied, Bosch, Agents of S.H.I.E.L.D.,Castle, NCIS: LA, Criminal Minds: Beyond Borders
Ryan Babcock – appearing in The Orville, Sons of Anarchy, Brooklyn Nine-Nine, N.C.I.S. Los Angeles, Ray Donovan, Silicon Valley
Tasha Scott – starring in Troop Beverly Hills, South Central, and appearing in Full House, Quantum Leap
William Boodell– Editor, Sharknado, The Dark and the Wicked
Jenise Spiteri – Olympic Snowboarder from 2022 Olympics
Matt Conant – writer, Mystery Science Theater 3000
Susan Lavelle – appearing in Scrooged, Alien Nation
PLUS
INFLUENCERS & CONTENT CREATORS
MCKENZI BROOKE
Content Creator
(16.8 million followers on Tiktok, 461K on IG)
NATASHA GRAZIANO
Motivational Speaker
(13.5 million followers on IG, 4.8 million on TikTok, 1.1 million on YouTube)
KATJA GLIESON
Singer / Model / Influencer
(9.5 million followers on Tiktok, 501K+ on IG)
JARRY LEE
Model / Musician / Actor
(1.2 million followers on IG)
MATILDA DAHLIN
Fashion Model – FHM, L'Officiel, Vogue Italia
(1.1 million followers on IG)
CHRSTIAN WINCHELL "WINCHUMBO"
Parkour Athlete
(1 million followers on YouTube, 861K on TikTok)
NORA VILLALOBOS
Fitness / Wellness / Fashion
(938K on TikTok, 347K on IG)
STORMI MAYA
Musician / Content Creator
(902K on IG, 467K on TikTok)
ZAINA ALI
Miss Europe Global / Miss Egypt
Model / Actress / Entrepreneur / Real Estate
(691K followers on IG)
WAHMEKO WAHYUNI
Content Creator
(591K on TikTok, 137K on IG)
SAYDA WORD
Comedy / Fashion / Fitness
(414K followers on TikTok)
KATHERINE FOX
Lifestyle / Self Care / Fitness Influencer
(361K followers on IG)
ERIN MICKLOW
Host of Last Rockers TV
Magazine Cover Model
(235K followers on TikTok)
VERONICA SHELBY
Actress / Content Creator
(217K followers on IG)
AND MANY MORE INDUSTRY GUESTS TO BE ANNOUNCED SOON!
But get your tickets NOW so you can get the biggest discount!  See details below!
THIS WILL BE A MAJOR NETWORKING EVENT!
PLUS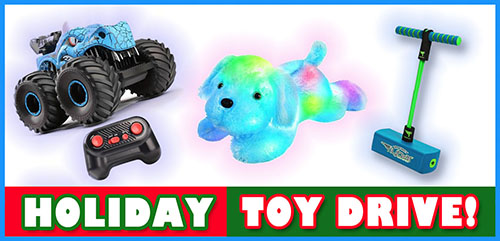 HOLIDAY TOY DRIVE
Benefitting the kids at
SHRINERS CHILDREN'S HOSPITAL in Los Angeles
We welcome ALL KINDS of Toys – from Plushies to Trucks, from Barbies to Pogo Sticks, and everything in between!
(GlowPets and Remote Controlled Cars are among the most popular with the kids – but we welcome all toys!)
You should attend if:
You want to celebrate the holidays in style!
You want to do some high-end networking with top industry professionals!
You want to walk the red carpet!
You want to wish Happy Holidays to Jeff! 🙂
You just want to mingle with great people!
at
SKYBAR
at the Mondrian Hotel
8440 Sunset Blvd.
West Hollywood, CA 90069
THURSDAY, December 7th, 2023
8pm – 2am
Red Carpet begins at 8pm
DRESS CODE:  UPSCALE, HIP, COOL, SEXY!
(Dress Code Enforced by Skybar, so look sharp!)
Age 21+ only:  You MUST bring valid ID, Skybar is very strict about this!
You MUST RSVP
THIS IS A GUEST LIST ONLY EVENT
SPECIAL DISCOUNT
PREMIUM and PRO InfoList Members get 35% OFF!! 
That's just $13 (normally $20!) for General Admission tickets, and only $19.50 (normally $30!) for VIP Tickets with Red Carpet priority access!
(Limited number of discount tickets available, so DON'T WAIT!)
UPGRADE NOW (or log in to your Premium/Pro Account) so you can take advantage of this special offer!  OR…
FOR EVERYONE ELSE
The good news is that we're offering 10% OFF TICKETS for a limited time!  That's just $18 (normally $20!) for General Admission tickets, and only $27 (normally $30!) for VIP Tickets with Red Carpet priority access!
Use discount code HOHOHOPETOSEEYOUTHERE to get your 10% OFF discount!
(Limited number of discount tickets available, so DON'T WAIT!)
GET YOUR TICKETS NOW:
THIS WILL BE A MAJOR NETWORKING EVENT!
BOTTLE SERVICE RESERVATIONS GET PREFERENTIAL ENTRY
THIS WILL BE A SOLD OUT EVENT
Please call Skybar to make your Bottle Service Reservations ONLY at (323) 848-6025 or email them at
Tell them you were sent by Jeff Gund!
(Bottle Service does NOT provide entrance to event – Ticket Purchase is still required!)
If you are interested in being a featured Special Guest,
OR for Sponsorship opportunities, please contact:
For Testimonials and InfoList SUCCESS STORIES:
Click Here
For Highlights, Pics & Video of our previous events:
Support the Strike Soiree 2023
Pre-Cannes & Post-Cannes Parties
I look forward to seeing you there!
FAQs
Are there ID or minimum age requirements to enter the event?
21+ ONLY!  You MUST bring valid ID!
What are my transportation/parking options for getting to and from the event?
Valet Parking provided at Skybar, as well as some street parking and lots in the area available.
How can I contact the organizer with any questions?
______________________________
INFOLIST.com
You may feel free to share this posting on other websites, groups, and via email to anyone you feel would be interested – however, YOU MUST INCLUDE THE ENTIRE POSTING WITH NO EDITING WHATSOEVER, including the intro from me at the top, this footer, and any advertising or other information present, crediting Jeff Gund at INFOLIST.com as the source if re-posted on a website or other list.  You MAY also SHARE LINKS to this posting (and are encouraged to do so!) – via the buttons above, etc.  Posting or sharing InfoList DISCOUNT CODES on other websites, groups, etc. is STRICTLY PROHIBITED, as such information is for INFOLIST members only.  Thank you for respecting this requirement, so I can continue to bring you all the relevant industry information and discounts.  While InfoList does its best to confirm and validate all information posted, we are a service that posts information from other companies and individuals, and are not responsible for the content posted, or any errors, omissions, typos, etc.  Have a great day!  -Jeff