PRE COMIC-CON BASH in Los Angeles: Featuring Producers, Creators, Execs & Stars from Your Favorite Blockbuster Movies, Top TV Shows, Manga, Comic Books & Video Games! With Immersive 360 Content Shows & Entertainment!!
INFOLIST PRE COMIC-CON BASH 2019!
INFOLIST.com has again hosted the party of the year:  the PRE COMIC-CON BASH – in Los Angeles!
This was a SUPER HIGH-END NETWORKING EVENT with some of the biggest names in the industry, and also an amazing celebration of all things COMIC BOOK, FANTASY, SCI-FI, ANIME, MANGA, ANIMATION, and COSPLAY!
We upped the game this year at our all-new venue – the Wisdome Immersive Dome Park which features massive domes (100 feet wide!) with 360 immersive experiences, art, and more!  You have to see it (or experience it, rather!) to believe it!  Check out the video below!
We had numerous SPECIAL GUESTS who are some of the biggest names in the industry – TOO MANY TO LIST HERE – but as an example we had top execs from Stan Lee's POW! Entertainment and TokyoPop, original Comic-Con SD Co-Founder Mike Towry and  other top companies including DreamWorks Animation and Digital Domain, to producers, creators, and stars from your favorite blockbuster movies, top TV shows, video games, comic books, manga, and anime such as Game of Thrones (Emmy-Winning Art Director of the Main Titles!), Iron Man 3,  X-Men, Wonder Woman, Godzilla:  King of Monsters, Teenage Mutant Ninja Turtles, Power Rangers, Guardians of the Galaxy, Star Wars, Red Dead Redemption, Aquaman, Shazam!, Sailor Moon, The Simpsons, Dr. Strange, Venom, Xena: Warrior Princes, Stranger Things, Sharknado, Pokemon, The Predator, Star Trek, and many more!
PLUS we're had an amazing FUN-TECH GIVEAWAY from WOWWEE!!  where we gave away the super fun-tech UNTAMED DRAGONS to lucky winners selected from VIP Tickets Holders!
We also had numerous AMAZING COSPLAYERS in attendance – see the photos below!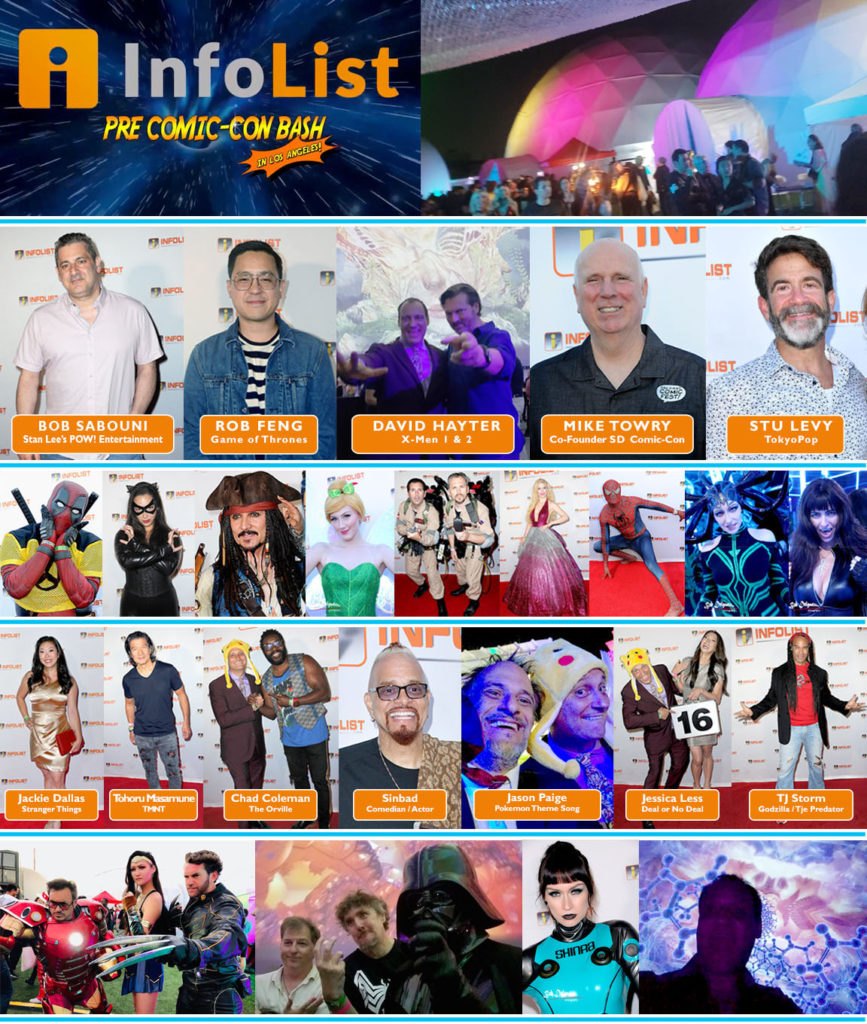 Check out the PHOTOS, VIDEO, and the FULL LINEUP of Special Guests at the links below!
FULL PHOTO ALBUM:
https://www.facebook.com/jeffgund/media_set?set=a.10162101848510381&type=3
VIDEO:
PRE COMIC-CON BASH VIDEO – Highlights, with Celebrity Interviews:
PRE COMIC-CON BASH VIDEO – Short Highlights/Additional Footage:
PRE COMIC-CON BASH – Promo Video:
Check out the FULL LINEUP OF SPECIAL GUESTS:
https://infolist.com/listing/pre-comic-con-bash-in-los-angeles/
Enjoy!  And looking forward to seeing you all at the upcoming PRE-EMMYS SOIREE!  Watch InfoList for announcements soon!
-Jeff
Jeffrey R. Gund
INFOLIST.com
Follow INFOLIST on Instagram
Follow INFOLIST on Twitter
Like INFOLIST on Facebook
Join Our Facebook Group
______________________________
---