Hi everyone,
INFOLIST.com is again hosting the party of the year:  the PRE COMIC-CON BASH – in Los Angeles!  It will not only be a HIGH-END NETWORKING EVENT, but also an amazing celebration of all things COMIC BOOK, FANTASY, SCI-FI, and COSPLAY!
And we're upping the game this year at our all-new venue – the Wisdome Immersive Dome Park features huge domes with 360 immersive experiences, art, and more!  You have to see it (or experience it, rather!) to believe it!  Check out the video below!
And there will be numerous SPECIAL GUESTS who are some of the biggest names in the industry – from Stan Lee's POW! Entertainment and TokyoPop, original Comic-Con SD Co-Founder Mike Towry and top companies including DreamWorks Animation and Digital Domain, to producers, creators, and stars from your favorite blockbuster movies, top TV shows, video games, comic books, manga, and anime such as Game of Thrones (Emmy-Winning Art Director of the Main Titles!), Iron Man 3,  X-Men, Wonder Woman, Godzilla:  King of Monsters, Teenage Mutant Ninja Turtles, Power Rangers, Guardians of the Galaxy, Star Wars, Red Dead Redemption, Aquaman, Shazam!, Sailor Moon, The Simpsons, Dr. Strange, Venom, Xena: Warrior Princes, Stranger Things, Sharknado, Pokemon, The Predator, Star Trek, and many more!
GET YOUR VIP TICKETS NOW!
PLUS we're having an amazing FUN-TECH GIVEAWAY from WOWWEE!!  We're giving away the super fun-tech UNTAMED DRAGONS to lucky winners selected from VIP Tickets Holders!
COSPLAYERS are definitely welcome to attend!
You must RSVP (via the link below!), as this is a guest list only event – hope to see you there!
Good luck, have a great day, and don't forget to dream big! (and this event will definitely be BIG!)
-Jeff
Jeffrey R. Gund
Follow INFOLIST on Instagram
Follow INFOLIST on Twitter
Like INFOLIST on Facebook
Join Our Facebook Group
______________________________
JEFFREY R. GUND
&
invite you to attend the annual

AN AMAZING CELEBRATION OF
ALL THINGS COMIC BOOK, SCI-FI, FANTASY & COSPLAY!
A RED CARPET EVENT!

with
SUPER-SPECIAL GUESTS:
SAN DIEGO COMIC-CON CO-FOUNDER
MIKE TOWRY
STAN LEE'S




POW! ENTERTAINMENT
Attending:
Grace Yeh, Development Director
Bob Sabouni, Chief Marketing Officer
Steve Voccola, Head Writer
Mike Kelly, Content Writer and Editor
LOS ANGELES COMIC CON
Attending:
Chris DeMoulin – CEO of Comikaze Entertainment
Karen Keifaber – President of Sales for Comikaze Entertainment
Amanda Yollin – Manager of Operations for Comikaze Entertainment
Sheldon Price – Production Coordinator
DIRECTOR/WRITER
SHANE BLACK
Iron Man 3, The Predator (2018),
Lethal Weapon (1-4), Kiss Kiss Bang Bang, The Nice Guys
SCREENWRITER
DAVID HAYTER
X-MEN 1&2, THE WATCHMEN, THE SCORPION KING
and the voice of Metal Gear Solid games!
TOKYOPOP
Global manga media company, publisher and producer of Manga, Anime, Graphic Novels and films
Including numerous manga titles for Disney, Tim Burton, Nintendo, Sony, Fox and films/TV including Priest, Riding Shotgun, and more!
Attending:
Stu Levy – Founder & CEO
Kevin Richardson, Producer & Head of Scripted
Kae Winters – Marketing
Janae Young – Publishing
Lena Atanassova – Editing
Emmy Award-Winning Art Director
ROB FENG
GAME OF THRONES – MAIN TITLES
Executive Producer – "Luce"
POWER RANGERS
CAMERON JEBO: Orion the Silver Ranger, Power Rangers Super Megaforce (2014)
WALTER JONES:  Zack the Black Ranger – Mighty Morphin Power Rangers (1993-1994).  He's an original!
and more to be announced soon!
DIGITAL DOMAIN
VFX Company for Marvel's Avengers:  Endgame, Captain Marvel, Aquaman,
Shazam! (2019), Ant-Man & the Wasp, Spider-Man:  Homecoming
Ready Player One, The Jungle Book, Tron: Legacy
and the upcoming:  Terminator: Dark Fate, Sonic the Hedgehog (2020)
Attending:
John Canning – Executive Producer
John is also Chair of New Media Council for the Producers Guild of America (PGA)
EXECUTIVE PRODUCER
WALTER O'BRIEN
HEAD OF SCORPION STUDIOS
SPIDER-MAN: HOMECOMING
VENOM
and true life inspiration for the hit show on CBS
SCORPION
THE THIRD FLOOR
VIRTUAL VISUALIZATION STUDIO
Attending:
Dane Smith – Vice President
Credits include blockbuster films including:
Detective Pikachu
Avengers: End Game
Game of Thrones
Spider-Man: Far from Home
Godzilla: King of Monsters
Disney's Dumbo
Captain Marvel
ICONIC DIRECTOR
RANDAL KLEISER
director / producer of the new VR Experience futuristic sci-fi series,
just released on SamsungVR and VeeR.tv
DEFROST
Intel's new
GREASE XR Experience
and director of the iconic classic films
Grease, The Blue Lagoon, Flight of the Navigator,
Big-Top Pee-Wee, Honey I Blew Up the Kid, White Fang, etc.
VALIANT ENTERTAINMENT
Attending:
Mel Caylo – Director of Marketing
GEOFF MARK
Lead VFX Artist on Spider-Man 3 and Serenity,
2nd Unit Director – Sharknado, Post Production Producer – The Simpsons
PRODUCER/WRITER/AUTHOR
STEVEN L. SEARS
(Swamp Thing; Sheena; Xena: Warrior Princess; The A-Team; Superboy; etc.)
EMMY AWARD-WINNING
ART DIRECTOR
ELLEN JIN
DREAMWORKS ANIMATION
(Formerly at Walt Disney Animation Studios)
Spirit Riding Free for Netflix/Dreamworks
Dr. Strange & Iron Man for Marvel
Tinkerbell movies for Disney
He-Man & the Masters of the Universe for Mattel
EMMY AWARD-WINNING
PRODUCER / PRODUCTION DESIGNER / WRITER / DIRECTOR
JOHN OVER
Pink Panther & Pals
Tiny Toon Adventures
Animaniacs
Jakers! The Adventures of Piggley Winks
Clifford the Big Red Dog
Producer / Development Exec at
BLUMHOUSE STUDIOS
RYAN TUREK
Ma
Halloween (2018)
Happy Death Day
Insidious: The Last Key
COMIC BOOK ARTIST
AGNES GARBOWSKA
My Little Pony
DC Super Hero Girls
Care Bears
Producer / Writer
CRAIG TITLEY
Agents of S.H.I.E.L.D.
Percy Jackson and the Olympians: the Lightning Thief
Star Wars: The Clone Wars
The Cape
Scooby Doo (2002)
NOSFERATU
(starring Doug Jones)
Attending:
David Fisher – Writer/Director
Brianne Dunn – Assistant Editor
KERRY O'QUINN
Publisher and Creator of Fangoria, Starlog, and Cinemagic Magazines
Producer of Fan Conventions including Star Trek 20th Anniversary and Star Wars 10th Anniversary
PANELIST AT SDCC for the film From the Bridge
SHARKNADO 1, 2, 3 & 4
Attending:
Screenwriter – Thunder Levin
2nd Unit Director – Geoff Mark
JASON PAIGE
Singer of the original Pokemon Theme Song
Voiceover in games – Deadpool, Elite Beat Agents
On screen in – Son of Zorn, Phineas & Ferb, The Muppets, HBO's Animals
PRODUCER
NEAL FISCHER
U.S. Representative of Davis Films(Resident Evil, Silent Hill, etc.)
Producer, Sushi Girl
LUKE LIEBERMAN
Producer – RED SONJA
Co-Creator STAN LEE'S ALLIANCES:  A TRICK OF LIGHT
JAMES MANDELL
Singer of the original

Teenage Mutant Ninja Turtles Theme Song
WITH CELEBRITY GUESTS
actress / author
CLAUDIA CHRISTIAN
starring in BABYLON 5 as "Commander Susan Ivanova"
starring in ATLANTIS: THE LOST EMPIRE as "Helga"
starring in THE HAUNTING OF HELL HOUSE as "Lucy"
and in the upcoming GODS & HEROES
In video games: Shrek 2, StarCraft II: Legacy of The Void, Call Of Duty: Infinity Warfare, World of Warcraft: Legion
and author of SNACK HACKS: Over 100 Fast and Delicious Recipes for Gamers, Coders, Freaks and Geeks
CAS ANVAR
Starring in the hit SyFy series THE EXPANSE
THE STRAIN on FX, ARGO, SOURCE CODE
Altair in the ASSASSIN'S CREED game
and in the Oscar-Nominated film ROOM
MAYLING NG
Starring in THE SCORPION KING: BOOK OF SOULS as "Khensa"
Appearing in

WONDER WOMAN

as "Orana"
and in Lady Bloodfight as "Svietta"
TJ STORM
Starring as:
"Godzilla" in GOZILLA: KING OF THE MONSTERS
"The Predator" in THE PREDATOR
"Darth Vader" in VADER IMMORTAL (video game)
"Maginty" in PUNISHER: WAR ZONE
"Bayu" in CONAN (TV Series)
also MOTION CAPTURE
as Colossus in Deadpool
and as Iron Man in Captain America: Civil War
as Parallax in Green Lantern
as well as in Avatar and TRON: Legacy
TOHORU MASAMUNE
"Shredder" in TEENAGE MUTANT NINJA TURTLES (2014 movie)
Also appearing in Inception, American Dad!, Agents of S.H.I.E.L.D., Kung Fu Panda: Legends of Awesomeness, The Cape, and Heroes
CHAD L. COLEMAN
"Klyden" on THE ORVILLE
"Tyreese Williams" on THE WALKING DEAD
"Col. Frederick Lucius Johnson" on THE EXPANSE
Also starring in The Wire, Electric City,
and appearing in Terminator: The Sarah Connor Chronicles, Family Guy, Arrow, and The Green Hornet
NAOMI GROSSMAN
"Pepper" in the EMMY-WINNING hit series on FX
AMERICAN HORROR STORY
JACKIE DALLAS
"Jen" in the hit Netflix series
STRANGER THINGS
JASON LILES
Starring in RAMPAGE
Motion capture for "King Ghidorah" in GODZILLA KING OF MONSTERS
Starring as "Ryuk" in DEATH NOTE
JOSEPH GATT
"Neils Skellig" in Tim Burton's DUMBO
Appearing in in GAME OF THRONES, STAR TREK: INTO DARKNESS,
STAR TREK, THOR, Z-NATION
PETER KWONG
Appearing in
BIG TROUBLE IN LITTLE CHINA
THE GOLDEN CHILD
LETHAL WEAPON (TV series)
BEAUTY & THE BEAST (TV series)
ADAM MCARTHUR
Starring as "Marco" in STAR VS. THE FORCES OF EVIL (Disney Channel)
Starring as "Erik" in THE LEBRONS
Appearing in Star Wars: The Clone Wars
Appearing in The Adventures of Puss in Boots
JASON SCOTT JENKINS
Starring in FUTURE MAN (Hulu)
Appearing in AMERICAN HORROR STORY
GABRIEL JARRET
Starring in REAL GENIUS
"Rudy" in The Karate Kid Part III
AND MORE SPECIAL GUESTS:
FON DAVIS
FONCO STUDIOS
Design, SPFX & VFX on:
Godzilla: King of Monsters
Star Wars:  Episodes 1 – 6
Star Trek:  First Contact
Interstellar
Guardians of at the Galaxy
Terminator:  Rise of the Machines
Transformers:  Dark of the Moon
The Matrix (2 & 3)
Jurassic Park (2 & 3)
AND:
Coraline, Galaxy Quest, Starship Troopers,  Elysium, The Nightmare Before Christmas
NEOPETS
A World Full of Virtual Pets and Exciting Games!
Oh the Nostalgia! Keep your Neopet happy and make sure your pets are healthy and fed!
Attending:
Ja Konkankit – Sr. Marketing Director
LEGION M
The World's First Fan-Owned Entertainment Company
Attending:
David Baxter – VP Development
GEEKFEST FILM FESTIVALS
The World's First and Largest Traveling Comic Con Film Festival
Attending:
Bill Ostroff – Creator & Producer
BERNIE BREGMAN
EXPERIENCE LEVEL ENTERTAINMENT
Bringing you the best in events at Comic-Con!
PRODUCER / ARTISTIC CONSULTANT
NEIL D'MONTE
Spectrevision (Elijah Wood's company)
Lionsgate Horror, Awesomeness TV
ROBERT MEYER BURNETT
Director of FREE ENTERPRISE
Producer of Tango Shalom and Sky Fighter
Documentarian of Star Trek: The Next Generation
PLUS
Gigi Edgley – Plays Chiana on Farscape (Syfy), host on Jim Henson's Creature Shop Challenge (Syfy), and appearing in Feud: Bette & Joan
Joe Ochman – Voice Actor on Red Dead Redemption, Fallout 4, Call of Duty: Advanced Warfare, World of Warcarft, Life Is Strange, Command and Conquer 4, Digimon, Space Jam, and actor on Buffy the Vampire Slayer, Lois and Clark, and more
Marilyn Brett – appearing as "Old Lady Skrull" in Captain Marvel, appearing in Priest, Buffy the Vampire Slayer, American Pie 2)
Neil Kaplan – voice actor in Bleach, Voltron: Legendary Defender, Love, Death & Robots, Power Rangers Time Force, Naruto: Shippuden, Lupin III, Digimon the Movie, Marvel Disk Wars: The Avengers
Shaene Siders – Writer, Marvel's Avengers Assemble, DC Super Hero Girls & Saint Seiya: Knights of the Zodiac
Craig Miller – writer, The Hunger, Curious George, Stargate: Infinity, Godzilla the Series, Beast Wars: Transformers, Smurfs, The Real Ghostbusters; publicist, Star Wars, The Empire Strikes Back, Splash, The Dark Crystal, Superman 2
Janeshia Adams-Ginyard – actress/stunt woman appearing in the Avengers: Endgame, Black Panther, Jordan Peele's Us, and Godzilla: King of Monsters
Steven Ayromlooi– Director, Leprechaun: Back 2 tha Hood and Nathan Grimm
Michele Boyd – Actress in The Orville, S.W.A.T., and NCIS
Ellen Dubin – appearing in Lego:  Star Wars, Napoleon Dynamite
Joelle Sellner – writer, Avengers: Mightiest Heroes, Sonic Boom, LEGO DC Super Hero Girls, Ben 10: Ominiverse, Saved by the Bell (graphic novels), creator of Super Slackers web series
Neo Edmund – Appearing as the Putty Patrol in numerous episodes of Mighty Morphin Power Rangers, Author of author of Power Rangers novels Tournament of Terror, Mayhem at the Moon Palace, and All Fear the Pharaoh, Creator of the Red Riding Alpha Huntress series
Vince Lozano – appearing as "Jacoby" in Pirates of the Caribbean: The Curse of the Black Pearl, and as "Storm" in American Horror Story
David An – VFX Editor:  Transformers: Dark of the Moon, Ender's Game; appearing in Agents of S.H.I.E.L.D., Vampire Diaries, WB's Rampage, Green Book, etc.
Chris Jai Alex – appearing in Thundercats Roar, Supergirl, Captain America: Civil War, Star Wars: Battlefront 2 (VG), Call of Duty: Black Ops 4
Linsay Rousseau – Motion Capture Artist/ Voice Over Actor (Sailor Moon, Rage 2, SuperS, Fallout 76, Elder Scrolls: Fall of the Dark Brotherhood)
Paul Runyan – VFX/SFX/Animator on Spider-Man: Far from Home, Black Summer, Sharknado 5: Global Swarming, Heroes Reborn, Agents of S.H.I.E.L.D., and Gotham
Chris Dellorco– Key Artist on Conan, Blade Runner, Revenge of the Nerds, Coming to America; artist for Disney
Rick Law – concept artist/illustrator for Disney (Mulan, The Lion King 2, 101 Dalmatians, Tinker Bell, Tarzan & Jane, Winnie the Pooh: Springtime with Roo, Piglet's Big Movie)
Chris Coppola– starring in Diary of a Wimpy Kid, appearing in Marvel's Agent Carter
William O'Neill – Illustrator for Lucasfilm, writer of John Carpenter's Snake Plissken Chronicles (comic book series), co-creator Violent Messiahs graphic novel
Jan S. Utstein – Production Staff at Marvel Studios, publisher, John Carpenter's Snake Plissken Chronicles and Violent Messiahs; producer, Agent 88, Payday: The Heist
Tim Burgard – Storyboard Artist/Illustrator, Men in Black, The Simpsons, Mars Attacks, Gargoyles (Comic-Con Panelist)
Sarah J. Eagen – Appearing in The Big Bang Theory and Rush Hour; writer on the sci-fi audio drama anthology The Veil from Voxx Studios
Meredith Thomas – appearing in The Orville, Shark Week (prequel to Sharknado), Evil Nanny, and San Diego Comic-Con Panelist
Max Wasa – Actress in Dead Slate, Death House, Astro, Hell's Kitty
Jared Cohn – writer/director, Alien Predator, Atlantic Rim: Resurrection, Avengers Grimm: Time Wars, Sharknado: Heart of Sharkness
Adam Gifford – voice actor in Batman: Hush, and in video games Red Dead Redemption II, Call of Duty:  Black Ops 3 & 4, World of Warcraft: Legion, Fallout: New Vegas
Regi Davis – appearing in The Orville, Knight Squad, She-Ra and the Princesses of Power, Grimm
Rich Ting – "Bolo" in Warriors, "Captain Iijima" in Man in the High Castle
Ron Austar – "Pierre" on Tim and Eric Awesome Show, Great Job! (Adult Swim)
Juliette Kida – appearing in Blood Fest, Once Upon a Time in Hollywood
Michael Tabb – writer, Werewolf, The Car: Road to Revenge, and author of Prewriting Your Screenplay
Cisco Reyes – "Romy" in Amazon's urban superhero series Chosen Kin Origins
Valerie Perez – starring in The Adventures of Paula Peril, judge at Comic-Con International Film Festival
Bernadette Bentley – Co-Founder Le Geek So Chic, Host, Comikaze All Year Long, Cosplayer
Devanny Pinn– starring in The Dawn and Killer Selfie, Crossbreed, Chase, and Hollow Point
Jude Prest – writer/producer/director, We Can Get Them for You Wholesale, Deadliest Warrior (SPIKE), The Ghost Speaks (A&E)
Herbie J Pilato – Host of Then Again with Herbie J Pilato (featuring guests like Burt Ward from Batman, Robert Conrad from The Wild Wild West, and David Selby from Dark Shadows); author of TV Companion Books about Bewitched, The Six Million Dollar Man, The Bionic Woman, and Kung Fu, and Dashing, Daring and Debonair: TV's Iconic Males of the '50s, '60s, '70s (which profiles, among others, Rod Serling, Gene Roddenberry, William Shatner)
Alana Jordan – starring in Herlock, Relativity (podcast), appearing on DC Movie News, host on AfterBuzzTV, and her show What's Popping Up?! on the Popcorn Talk Network, and SDCC Panelist!
Alicia Hollinger – featured artist, Heavy Metal Magazine, Indie Comics Magazine
Jon Bailey – voice actor, Bumblebee, Detective Pikachu, Honest Trailers
Jessica Cameron – producer/director, Scream Queen Stream, Truth or Dare
Kelly Washington – "Lucy" (blue girl) on Z-Nation, appearing in Jurassic World
Bill Sienkiewicz – Artist on FX's Legion
Dave Bonanno – Story Board Artist/Animator Rick & Morty
Christina Marie Leonard – Star Wars Rebels Podcast creator/host
Bryan Michael Stoller – author, Harry Potter: Imagining Hogwarts
Pat & Don Jankiewicz – journalists for Starlog and Fangoria
Alex Lugo – comic artist, Upper Deck Trading Cards for Marvel
Chris Gore – editor of FilmThreat.com
Adrian Dev – appearing in Westworld, Once Upon a Time in Hollywood
Bill Watson – writer/director, Plan P Live
PLUS – NUMEROUS TOP COSPLAYERS!
MORE SPECIAL GUESTS ANNOUNCED ON A DAILY BASIS!
AMAZING FUN-TECH GIVEAWAYS
from
WOWWEE!
Innovative Hi-Tech Robotic and Entertainment Products
We'll be giving away fun-tech
*UNTAMED DRAGONS!*
Friend or Foe?  You Decide!
*Only VIP Ticket Holders will be eligible for the Giveaway!
(Limited number to VIP ticket holders drawn at random)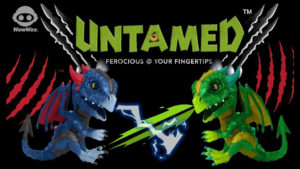 WOWWEE Untamed! DRAGONS!
COSPLAY HIGHLY ENCOURAGED!
Please Note:  All weapons that are part of your cosplay outfit must be *obviously* fake, and in the spirit of cosplay.  Fake cosplay weapons will be allowed at the discretion of event security.
THIS WILL BE A MAJOR NETWORKING EVENT!
You should attend if:
*  You're a fan of Comics, Sci-Fi, Fantasy, or Cosplay!  *
*  You work in the entertainment industry  *
*  You want to experience the amazing Immersive 360 Dome Show!  *
*  You want to mingle with great people  *
*  You just want to do some high-end networking!  *
ONE NIGHT ONLY!
THURSDAY, July 11th, 2019
7pm – 12am
(This is an 18 and over event)
at
WISDOME IMMERSIVE DOME PARK
Downtown Los Angeles
1147 Palmetto Street
Los Angeles, CA 90013
featuring 5 domes of immersive entertainment, art, and
high-level networking with A-List industry professionals!
You MUST RSVP
THIS IS A GUEST LIST ONLY EVENT
PREMIUM and PRO InfoList Members get 60% OFF!  That's only $10 (normally $25!) for General Admission tickets, and just $24 (normally $60!) for VIP Tickets with priority access to the immersive dome shows and Celebrities and Special Guests, and Red Carpet priority access!
UPGRADE NOW (or log in to your Premium/Pro Account)
so you can unlock the Premium discount code and take advantage of this special offer!
VIP TICKETS WILL RECEIVE:
– Priority Entrance (General Admission may have a longer wait in line)
– Access to the VIP Area (where the Celebrities & Special Guests will be!)
– Priority Admission and VIP Seating for the Samskara Immersive 360 Dome Show!
– Access to the Red Carpet and Photo Wall
– Eligibility to win the Giveaways
– Access to VIP Food and Drink Lounge
– and MORE!
GENERAL ADMISSION TICKETS WILL RECEIVE:
– Access to the General Admission area for fun and networking!
– General Admission to the Samskara Immersive 360 Dome Show!
REGISTER NOW!
Get your tickets now at:
(You'll definitely want a VIP Ticket so you can mingle with all the Celebrities, Special Guests,  and more!)
For Media, Talent, and Sponsorship inquiries:
Let me know if you're an ESTABLISHED PROFESSIONAL with RECOGNIZABLE CREDITS, and would like to be featured as a Special Guest!
For pics of our previous events:
I look forward to seeing you there!
FAQs
Are there ID or minimum age requirements to enter the event?
Age 18+
What are my transportation/parking options for getting to and from the event?
Parking Structures and street parking in the area (but Uber or Lyft encouraged!).
What can I bring into the event?
All weapons that are part of your cosplay outfit must be *obviously* fake, and in the spirit of cosplay.  All fake cosplay weapons will be allowed at the discretion of event security.
How can I contact the organizer with any questions?
______________________________
INFOLIST.com
You may feel free to share this posting on other websites, groups, and via email to anyone you feel would be interested – however, YOU MUST INCLUDE THE ENTIRE POSTING WITH NO EDITING WHATSOEVER, including the intro from me at the top, this footer, and any advertising or other information present, crediting Jeff Gund at INFOLIST.com as the source if re-posted on a website or other list.  You MAY also SHARE LINKS to this posting (and are encouraged to do so!) – via the buttons above, etc.  Posting or sharing InfoList DISCOUNT CODES on other websites, groups, etc. is STRICTLY PROHIBITED, as such information is for INFOLIST members only.  Thank you for respecting this requirement, so I can continue to bring you all the relevant industry information and discounts.  While InfoList does its best to confirm and validate all information posted, we are a service that posts information from other companies and individuals, and are not responsible for the content posted, or any errors, omissions, typos, etc.  Have a great day!  -Jeff