INFOLIST Red Carpet Pre-Oscars Soiree 2020! A High-End Networking Event with Producers, Creators & Stars from Oscar-Winning & Blockbuster Films!
INFOLIST.com RED CARPET PRE-OSCARS SOIREE!
This year's annual INFOLIST.com RED CARPET PRE-OSCARS SOIREE was an incredible success, with a great mix of A-List producers, creators, and starts from OSCAR-WINNING and OSCAR-NOMINATED films (and TV, Music, Video Games, and more!), as well as top working industry professionals, and up and comers – all under one roof!
It was great to take time and celebrate the the Oscars and great filmmaking, all while HAVING FUN, and connect with industry professionals  – so you can find more work, make your own work, and get your projects made!
SPECIAL GUESTS included iconic PRODUCER/WRITER/DIRECTOR DAVID ZUCKER (franchises including AIRPLANE!, NAKED GUN, and SCARY MOVIE), FILM EXECUTIVE RICHARD WALTERS (the Oscar-Winning film WHIPLASH, Oscar-nominated NIGHTCRAWLER),COMPOSER PINAR TOPRAK (CAPTAIN MARVEL, AVENGERS: ENDGAME (Captain Marvel Theme), KRYPTON), and MUSIC EDITOR/COMPOSER SHIE ROZOW (AVENGERS: AGE OF ULTRON, the Oscar-Winning HUSTLE & FLOW), RED POWER RANGER JASON FAUNT, LARA CLEAR from the OSCAR-NOMINATED BOMBSHELL, TOM SIZEMORE (starring in the OSCAR-WINNING SAVING PRIVATE RYAN, BLACKHAWK DOWN, TWIN PEAKS), plus more from Joker, Rampage, The Revenant, Spider-Man: Far from Home, A.P. Bio, Frost/Nixon, Apollo 13, Great Expectations, Green Book – and more!
PLUS – Special SURPRISE GUESTS included blockbuster writer/director SHANE BLACK (IRON MAN 3, THE PREDATOR, KISS KISS BANG BANG, LETHAL WEAPON, etc.)!
I hear SUCCESS STORIES from every InfoList event about how someone made a connection that got them a job or gig, helped them get their project done, or changed their life!
Check out the COMPLETE PHOTO ALBUM and the FULL LINEUP of Special Guests at the links below!
EVENT VIDEO:
PHOTO ALBUM:
https://www.facebook.com/jeffgund/media_set?set=a.10163077333735381&type=3
Feel free to Tag yourself, and your friends!
(Note:  Facebook is now blocking the ability to share photo albums outside of FB – so you'll need a Facebook account to view the photos.  If you have trouble using the link above, just go to https://www.facebook.com/jeffgund, click "Photos," then navigate to the Pre-Oscars Soiree 2020 album)
Link to the Invite with the Full Lineup of SPECIAL GUESTS:
https://infolist.com/listing/infolist-red-carpet-pre-oscar-soiree-2020-a-high-end-networking-event/
See the photo below for some quick highlights, but definitely check out the full album at the link above!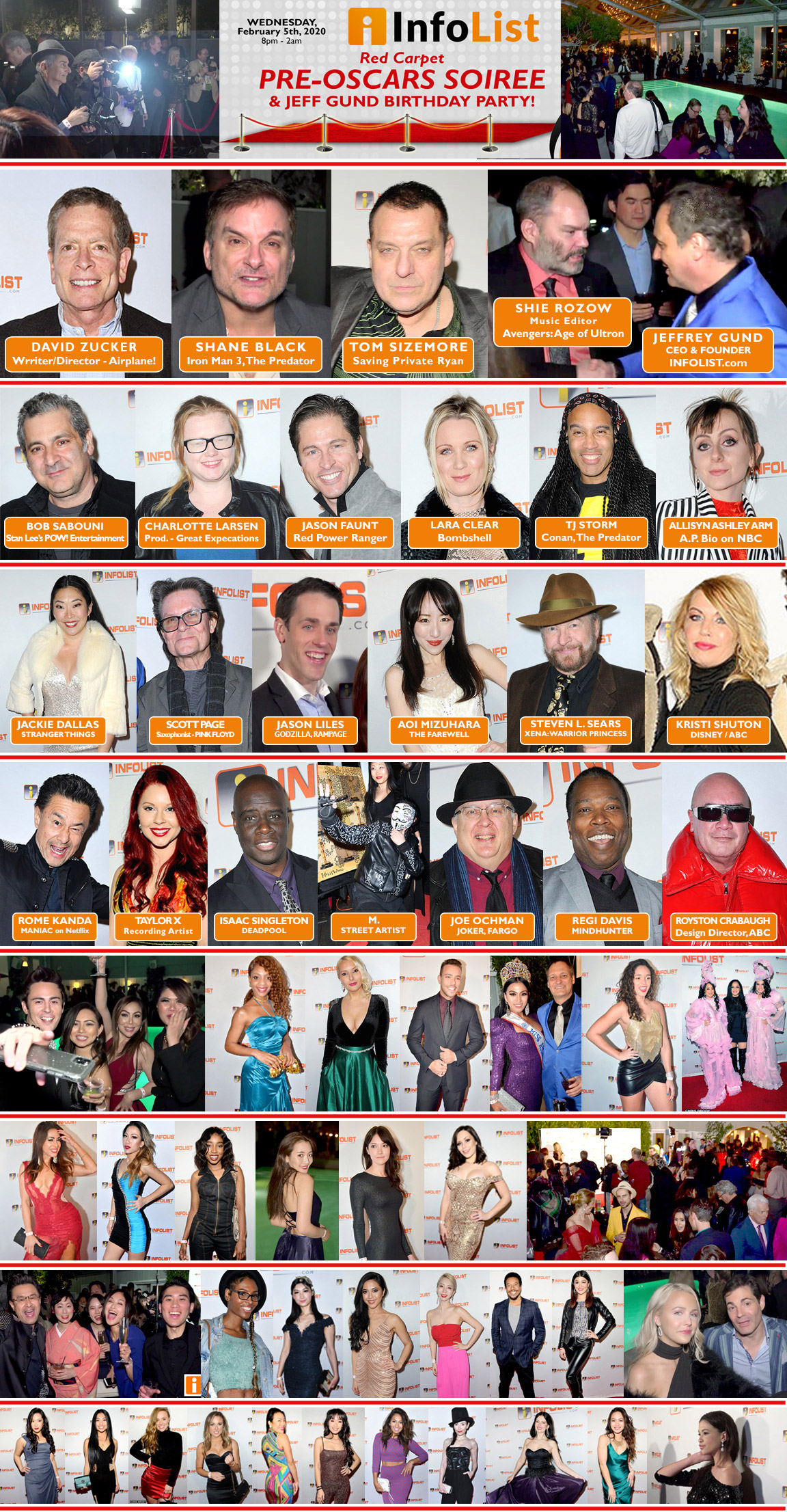 Hope to see you at the next event, and wishing you all much success in all your creative endeavors!
-Jeff
Jeffrey R. Gund
INFOLIST.com
Follow INFOLIST on Instagram
Follow INFOLIST on Twitter
Like INFOLIST on Facebook
Join Our Facebook Group
---