Premium Member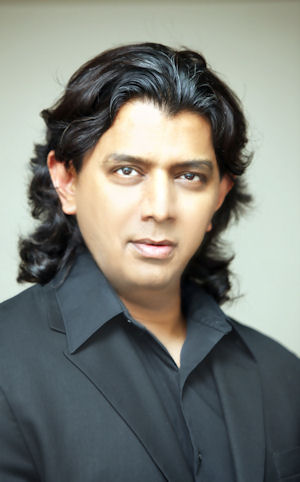 ---
Personal Bio
Exotic fabrics, intricate details, and ornate colors are the elements that Indian-American fashion designer Shekhar Rahate masterfully blends together to orchestrate his collection of haute couture gowns. The Rahate Collection encompasses the beauty and elegance of high-fashion frock by combining a variety of styles and fabrics from form-fitting to free-flowing to multi-patterned.
Shekhar Rahate of Shekhar Rahate Haute Couture set records when he styled over 50 of his breathtaking creations for the Oscar Awards event in 2014 & 2015.  Rahate's one of a kind dresses were spotted not only on the Academy's red carpet at the Dolby Theater where he reigned but also on several high profile occasions throughout Oscar season.  These included red carpet events in Beverly Hills, West Hollywood, and Hollywood at benefits for Children Uniting Nations, the Elton John AIDS Foundation, Fame & Philanthropy,  the French Tuesdays and Vanity Fair celebrations; and the Salute to the Stars and Night of 100 Stars galas.
His fashion goals are to accentuate a woman's silhouette while allowing her to move with comfort and grace. The Rahate Collection of luxurious gowns not only define haute couture perfection, but also carries with it the attention-grabbing appeal of the Red Carpet. His unique gowns appears every year at the Golden Globes , Grammy's , Emmys, Oscars, and the Cannes Film Festival.
Rahate's display of women's formal wear and headpieces at the International Fashion Supermodel (IFSM) event in Hollywood topped off a Halloween-themed celebrity-clad event that was broadcast to millions of viewers in the United States and China. Rahate also regularly participates in the New York Fashion Week (NYFW) & Los Angeles Fashion Week . He presented his new collection at the Couture Fashion Week during NYFW 2012 where it was well received.
Rahate has more than 20 years of experience in the fashion industry and received his training at the Dubai Beams International Fashion School & at the PARSON'S school of fashion design , NEW YORK , His runway shows have crossed the fashion globe from Los Angeles to San Francisco to New York City, as well as overseas to Germany, Switzerland, India and PARIS,France.
Shekhar is actively involved in costume designing for TV & films . Shekhar have designed costumes for more than 10 films & many more films to come in near future .
Rahate's creations have garnered numerous accolades in the fashion arena including:
* Fashion Couturier of the Year Award – Los Angeles County Sheriff's Indo-American Advisory Council, April 2012
* Versace Award for Global Excellence in Fashion – Global Independence Day Gala, US Asia Business Forum, September 2012
* Mahatma Gandhi Pravasi Medal for outstanding services and achievements in regard to role of global Indians in the international arena – NRI Welfare Society of India in London, 2012 / 2013 .
Maharashtracha Kohinoor – A prestigious Award by Kohinoor Group at the MATA – SANMAN event in Mumbai , India, 2014.
Top Fashion Designer Award at the Lotus Beauty Awards in Malibu , CA , 2014.
MMLA Puraskar/Award 2014 – Outstanding achievements in Art, Culture and Literature and contribution to community in Los Angeles and North America at large.
BMM Puraskar / Award 2015 – Outstanding achievements in Art, Culture and Literature and contribution to community in North America at large.
Celebrity designer fashion show at the ROMAN MEDIA pre-OSCAR'S event in HOLLYWOOD 2015 , 2016 , 2017 , 2018 .
Finale designer at TET festival , San Francisco 2017 , 2018 , 2019.
Invited as celebrity designer at the CLASSIC NY GALA fashion show … Sept 22nd 2018 … NEW YORK … attended by A-list celebrities like Mario Lopez , AL Pacino & Justin Timberlake .
Finale celebrity designer at THE ART OF COUTURE , 2019 OSCAR awards night CITY GALA fashion show … Feb 24th 2019 … Los Angeles … attended by A-list celebrities like Wesley Snipes , Randy Jackson , Colin Farrell , Mario Lopez & Lynn Rose .
Best of 2019 FASHION DESIGNER boutique award presented by West Hollywood awards program – Jan 2020.
Finale celebrity designer at 2020 OSCAR awards night CITY GALA fashion show … Feb 9th 2020 … Los Angeles … attended by A-list celebrities like DEMI MOORE .
Shekhar produced a Hollywood feature film " AMIDST MY OWN " in Feb 2020 in which he also perform as a lead actor & costume designer .
Rahate is also no stranger to the political arena as he designed Hollywood Haute Couture dresses for the 2013 Inauguration of United States President Barack Obama. In addition, he is the only designer in history ever to show at the prestigious United Nations General Assembly Hall where 450 delegates from across 192 nations witnessed his work.
His gowns have also been worn by countless prominent figures such as Maria Amor, Madame Chair M.C. Townsend, Bambou Ada (Adrienne) Diagne, actress Vanessa Williams, actress Michelle Romano, as well as "Miss Asia Pacific", "Miss World", and "Miss Universe".
Latest Activity
Sorry, there was no activity found. Please try a different filter.