Premium Member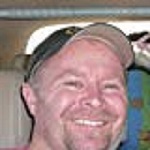 ---
Personal Bio
Lubbock, Texas, native, former drummer, singer, and much-traveled writer, Clint Townsend has also made his home in New Mexico, Arizona, and Oklahoma. God continues to open doors for Clint, despite receiving a diagnosis of ALS (Lou Gehrig's Disease) in 2006 and Lyme disease in 2010. His faith in Jesus Christ, and sense of humor, has empowered him to weather the many obstacles and challenges he faces on a daily basis. He typed and edited the entirety of his book Xⁿ [X to the Nth], and even designed his bookmakers, with his eyes by using eye gaze tracking technology on a digital keyboard.
In February, Clint's Faith-based, sci-fi novel 'Xⁿ [X to the Nth]' (ISBN #978-1-595558992) was released through Elm Hill Books, a division of Harper Collins Christian Publishing. In April, Elm Hill released his second Faith-based book, a suspense-drama titled 'The Folds' (ISBN #978-1595559111). 'Xⁿ' is currently being converted into a twelve-part mini-series for television production, while 'The Folds' has been written as a novel and full-length feature film.
Clint has pledged to donate a portion of the profits generated by sales of his books to Steve Gleason's ALS charity, Team Gleason, "www.teamgleason.org".
To order your unique and personalized copy of 'Xⁿ' or 'The Folds', please visit "www.clinttownsendbooks.com" and select the PayPal tab.
Latest Activity
Sorry, there was no activity found. Please try a different filter.