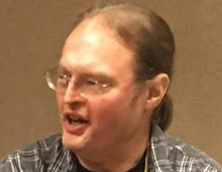 ---
Personal Bio
Skip Williams is a Wisconsin native who hails from Lake Geneva, also the birthplace of the D&D game. As a kid in school, Skip rubbed elbows with many of the people who developed and influenced the original Dungeons & Dragons game, especially Gary Gygax.
After college, Skip did a stint with TSR, Inc. organizing the Gen Con Game Fair. After leaving TSR to become a freelancer, Skip eventually came to pen the Sage Advice column for Dragon magazine. For more than 15 years, Skip applied his unique wit and wisdom to help DMs and players navigate that difficult frontier where the game rules meet the game table.
After a few years on his own, Skip rejoined TSR to work on the RPGA Network and Polyhedron newsine. During his time in the RPGA, Skip undertook some freelance assignments for TSR design department and eventually left the network to become a full-time designer/editor working mainly on TSR's D&D line, but also Planescape, Greyhawk, Ravenloft, and Dragonlance. Skip was part of the team that designed the Dragonlance 5th age card game.
When Wizards of the Coast purchased TSR, Skip briefly moved to Seattle to work on the D&D 3rd edition game. While in Seattle Skip also helped create a new version of the Chainmail miniatures game, worked to transition the Forgotten Realms and Greyhawk lines to the (then) new D&D rules.
Skip has since returned to Wisconsin, where he and his wife, Penny, own a century-old farmhouse and a few surrounding acres. These days, Skip works on some short fiction (publishing several short stories through Daw books), undertakes the occasional commission from small game publishers (most recently Smirking Dragon and Tacitus Publishing), serves as co-director of events for Gary Con (held each year in Lake Geneva), and tries to rescue his acreage from the encroaching weeds. Now and then, he finds time to play a game or two or paint some gaming miniatures.
Latest Activity
Sorry, there was no activity found. Please try a different filter.