Hi everyone,
Here's info on a OPENING NIGHT SCREENING & LIVE Q&A of ON FIRE (Starring Peter Facinelli, Lance Henriksen, Asher Angel, Fiona Dourif) followed by a Q&A with the filmmaker and stars from the film!
Details are below – as always, feel free to forward if you know someone who might be interested!
Good luck, have a great day, and don't forget to dream big!
-Jeff
Jeffrey R. Gund
Follow INFOLIST on Instagram
Follow INFOLIST on Twitter
Like INFOLIST on Facebook
Join Our Facebook Group
______________________________
You are invited to attend a special
OPENING NIGHT SCREENING & Q&A
of
ON FIRE
A film by NICK LYON
Starring
PETER FACINELLI (The Twilight Saga, The Scorpion King, Nurse Jackie)
LANCE HENRIKSEN (The Terminator, Aliens, Tarzan)
FIONA DOURIF (Tenet, Chucky, Curse of Chucky, The Blacklist)
ASHER ANGEL (Shazam! Fury of the Gods, Shazam!)
ASHLEI FOUSHEE (Ballers, S.W.A.T.)
Followed by a
LIVE Q&A
with the film's
CO-WRITER/DIRECTOR & PRODUCER
NICK LYON
&
STAR
ASHLEI FOUSHEE
FRIDAY, September 29th, 2023
8pm (screening starts at 8:20pm)
Q&A directly afterwards
at
AMC Broadway 4
1441 third Street Promenade
Santa Monica, CA  90401
AND
SCREENING and Q&A
with the film's star
PETER FACINELLI
on
SATURDAY, September 30th
(screening begins at 7pm)
at
AMC Orange 30
20 City Blvd W., Suite E
Orange, CA 92868
On September 29th Filmmaker Nick Lyon Sets Screen across America Ablaze with his film
"On Fire"
About the Film:
Brace yourself for an incendiary cinematic experience as filmmaker Nick Lyon unveils his latest film, "On Fire."   This high-octane survival disaster film plunges audiences into the heart of a raging forest fire, igniting awareness about the escalating global wildfire crisis. 
TICKETS:
FRIDAY Screening and Q&A with Nick Lyon & Ashlei Foushee:
SATURDAY Screening & Q&A with Peter Facinelli:
For ADDITIONAL SHOWTIMES & THEATERS, check your local listings:
https://www.showtimes.com/movies/on-fire-172591/
To see the trailer: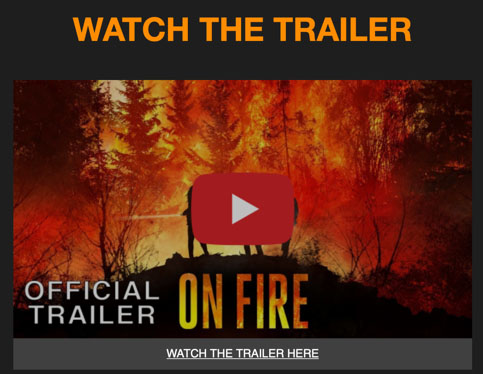 We hope to see you there!
______________________________
INFOLIST.com
You may feel free to share this posting on other websites, groups, and via email to anyone you feel would be interested – however, YOU MUST INCLUDE THE ENTIRE POSTING WITH NO EDITING WHATSOEVER, including the intro from me at the top, this footer, and any advertising or other information present, crediting Jeff Gund at INFOLIST.com as the source if re-posted on a website or other list.  You MAY also SHARE LINKS to this posting (and are encouraged to do so!) – via the buttons above, etc.  Posting or sharing InfoList DISCOUNT CODES on other websites, groups, etc. is STRICTLY PROHIBITED, as such information is for INFOLIST members only.  Thank you for respecting this requirement, so I can continue to bring you all the relevant industry information and discounts.  While InfoList does its best to confirm and validate all information posted, we are a service that posts information from other companies and individuals, and are not responsible for the content posted, or any errors, omissions, typos, etc.  Have a great day!  -Jeff