Hi everyone,
Here's info on the upcoming PALM SPRINGS FASHION WEEK – three days of fashion, music, and beauty!
As always, there's a great discount for INFOLIST.com!
Details are below – as always, feel free to forward if you know someone who might be interested, and be sure to mention I sent you!
Good luck, have a great day, and don't forget to dream big!
-Jeff
Jeffrey R. Gund
Follow INFOLIST on Instagram
Follow INFOLIST on Twitter
Like INFOLIST on Facebook
Join Our Facebook Group
______________________________
You are invited to attend
PALM SPRINGS FASHION WEEK
THREE DAYS OF
FASHION  •  MUSIC  •  BEAUTY
Poolside Fashion Shows
Top Runway Designers
Music Artists
Beauty Pop Ups
Thursday, Friday, and Saturday
APRIL 11 – 13, 2019
at the iconic
Riviera Hotel Pool
in Downtown Palm Springs
1600 North Indian Canyon Drive, Palm Springs, CA 92262
Its star-studded guest list and Red Carpet arrivals will be as iconic as the models on the Runway!
THURSDAY
Don't miss our
OPENING GALA
THURSDAY, April 11th, 2019
featuring an incredible lineup of top fashions
and a musical performance by Vali!
FRIDAY
Doors open at 3pm!
Roots by Bella
Performance by Abirina
Cirone Swim
Richard Hallmarq
Musical Performances by Ashley Brinton
Candice Cuoco
Tess O'Rilley
SATURDAY
Doors open at 3pm!
Coral Castillo
Will Franco
House of Grayling Purnell
Siwy Denim
Musical Performance by Jaira Burns
LASCANA
DJ Joel Mignott
George Styler
JM COUTURE
Kryoman + EC Twins
Live appearance by Annie Solange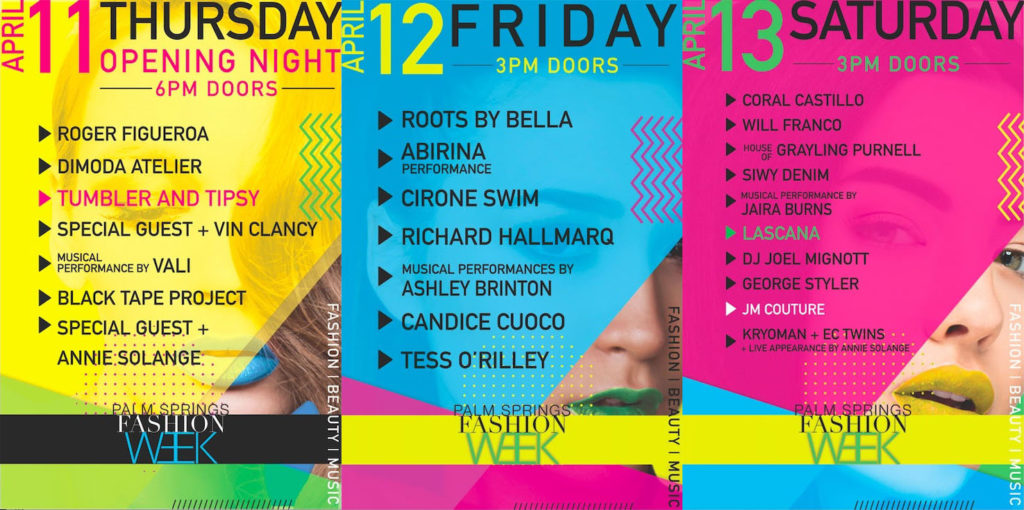 UNIFIED BY A LOVE FOR FASHION AND THE PEOPLE WHO LIVE IT.
Palm Spring Fashion Week brings together the best in Festival, Swimwear & Resort Fashion Brands that foster creation and international development, featuring both quality and diversity.  It seeks to promote fashion and music culture, where design and creation have a major market impact by keeping festival fashion at the forefront of the global fashion scene.
CONNECTING THROUGH FASHION AND SHARED EXPERIENCE.
Connect to cultural ideologies that are current, loaded, and strong.  Think in terms of being a powerful connection that bonds consumers around an idea through its root in shared passions, colors, and trends.  The behind-the-scenes connectors knitting art and fashion together, a fashion designer and artist share the global stage at PS Fashion Week.
PREMIUM and PRO InfoList Members get 15% OFF!!  Get General Admission One Day Tickets starting at just $34 (normally $40!), as we as VIP One-Day Tickets starting at just $51 (normally $60!) – OR get a Full Festival Pass for only $102 (normally $120!) for General Admission, or only $187 (normally $220!) for VIP Admission!  PLUS – Cabanas available!
UPGRADE NOW (or log in to your Premium/Pro Account) so you can view the discount code and take advantage of this special offer!
Or, skip the upgrade and pay regular price –
TO REGISTER:
Get your tickets now at:
For more information:
______________________________
INFOLIST.com
Posting or sharing InfoList DISCOUNT CODES on other websites, groups, etc. is STRICTLY PROHIBITED, as such information is for INFOLIST.com members only.  Thank you for respecting this requirement, so I can continue to bring you all the relevant industry information and discounts.  You MAY SHARE LINKS to this posting, however (as only members will be able to view discount information).  While InfoList does its best to confirm and validate all information posted, we are a service that posts information from other companies and individuals, and are not responsible for the content posted, or any errors, omissions, typos, etc.  Thank you, and have a great day!  -Jeff